Global Food Safety Initiative (GFSI)
GFSI Certification aims to improve food safety management systems, which are essential, to ensure that food facilities are processing safe food for consumers.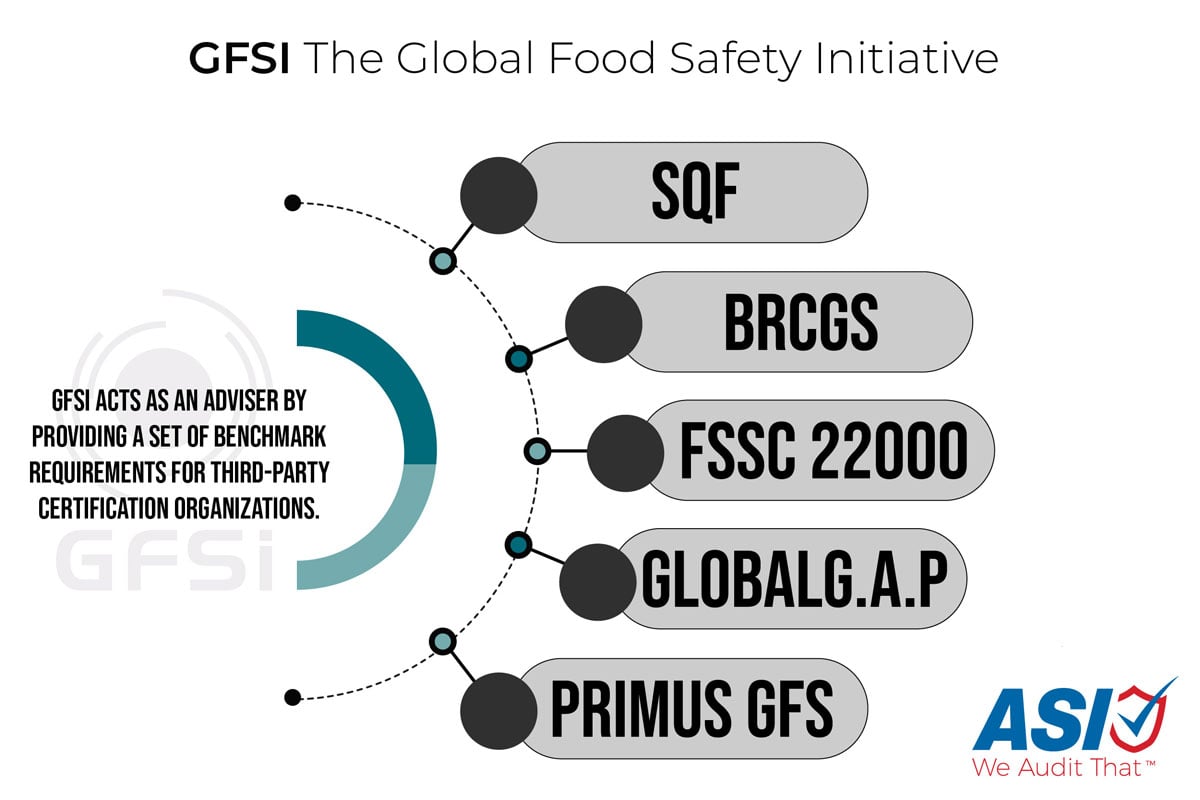 What is GFSI Certification?
GFSI stands for The Global Food Safety Initiative (GSFI).
GFSI DOES NOT PROVIDE FOOD SAFETY CERTIFICATION.
Rather GFSI is a coalition of food manufacturers, distributors and retailers the Consumer Goods Forum manages, and its goal is to standardize food safety and operations across the food supply chain.
GFSI acts as an adviser by providing a set of benchmark requirements for third-party certification organizations. The GFSI's gold-standard recognition provides a universal benchmark for food safety audits.
What are the GFSI approved auditing programs (schemes)?
As of today, there are eleven major recognized food safety management standards that have been certified by GFSI as meeting their benchmarking requirements. Each set of standards has a unique focus and scope, and though there could be overlap for some requirements, there are also important differences.
Safe Quality Food (SQF)

BRCS Global Standard for Food Safety

Canada GAP

Equitable Food Initiative

FSSC 22000

Freshcare

Global Aquaculture Alliance Seafood

Global Red Meat Standard (GRMS)

Global G.A.P.

International Featured Standards (IFS)

Japan Food Safety Management Association (JFSM)

Japan Gap Foundation (ASIAGAP)

Primus GFS Standard
How do I achieve GFSI recognized certification?
In order to achieve GFSI-recognized certification, companies must successfully undergo third-party audit against a program operated by a GFSI-recognized Certification Program Owner (CPO), like ASI Food Safety.
How do I get GFSI recognized certified?
Determine which certification (example, SQF, BRCS, and FSSC 22000) is best for the organization
Contact a certification company (like ASI Food Safety)
Align your processes with the certification program
Request an audit
Maintain compliance
What are the benefits of having Certification recognized by GFSI?
For food manufacturers, certification recognized by GFSI is a must-have.
Here's why:
GFSI recognized certification is recognized by consumers around the world
It helps create trust between your company and consumers
It makes it easier to sell your products in overseas markets
It saves your company money on audits, inspections, and other costs associated with regulatory compliance
Is Certification recognized by GFSI mandatory?
While pursuing GFSI certification is a voluntary practice, many food and beverage companies seek the accreditation as a demonstration of their commitment to proactive risk mitigation.
Food and beverage companies are increasingly seeking third-party certification to achieve greater visibility and credibility within their supply chains. They want to ensure that they are sourcing products that meet the highest quality standards, while also mitigating potential risks associated with product recalls or consumer dissatisfaction.