Maryland GMP for Cannabis
Manufacturers of edibles and dietary supplements in Maryland must meet cGMP and CFR 111 requirements.
While cannabis products are not considered dietary supplements by the FDA, some states, including Maryland, require all manufacturing sites for edibles and dietary supplements to meet 21 CFR 111 requirements in addition to passing a GMP audit. In order to be compliant, companies manufacturing these products can schedule a dual audit through a Certification Body like ASI.
Maryland cannabis companies can choose between a basic, unaccredited verification audit - like a cGMP audit, or a more complex CSQ certification audit that's accredited. As an auditing entity approved by ISO 17065, ASI is a qualified Certification Body for each of these audits. (See below for more information about the difference between an accredited vs. an unaccredited standard.)
CSQ is now accepted in Maryland and has an addendum to the CSQ Dietary Supplement Standard to close any gaps between the global CSQ standard and the FDA's 21 CFR 111 for Dietary Supplements.
MARYLAND LAW
G. High Potency Edible Cannabis Products.
(1) Edible products produced with approval by the Administration under §B(4) of this regulation shall comply with Current Good Manufacturing Practices under 21 CFR Part 111 or 21 CFR Part 210.
(2) A permittee shall submit to the Administration a third-party certification that demonstrates compliance with §G(1) of this regulation.
(3) Demonstration of compliance required under §G(2) shall include:
Proof of the third party's accreditation to certify for Current Good Manufacturing Practices that complies with 21 CFR Part 111 or 21 CFR Part 210; and
An attestation that the third party performed a facility audit of the licensed processor's facility using an audit checklist within the scope of accreditation that complies with 21 CFR Part 111 or 21 CFR Part 210; and
The audit checklist for cGMP 21 CFR Part 111 or 21 CFR Part 210, facility score, the audit checklist score scale, and a corrective plan to remediate any deficiencies identified during the audit.
What are Food Safety Good Manufacturing Practices (GMP)?
GMP stands for Good Manufacturing Practices. It is a set of regulations that are designed to ensure the safety, quality, and consistency of manufactured products. GMPs are typically enforced by government agencies.
GMPs cover a wide range of topics, including:
Personnel:

Training and qualifications of personnel involved in manufacturing
Premises and equipment:

Design, construction, and maintenance of facilities and equipment
Materials, components, and labeling:

Control of incoming materials, components, and labeling
Production:

Procedures for manufacturing, packaging, and storage
Testing and release:

Testing and approval of finished products
Control of records:

Maintenance of accurate and complete records
Corrective and preventive action:

Identification and correction of problems
Self-inspection:

Regular review of GMP compliance
How Can ASI Food Safety Help with your with your cannabis GMP audit?
The Cannabis Safety & Quality (CSQ) Certification Program and applicable standards were built around ISO/IEC 17067.
The CSQ Standards are a set of requirements that have been developed by a group of experts based on scientific data, public health concerns, and industry best practices.
They are designed to ensure that consumers can trust that products are not only safe but also meet their expectations for quality.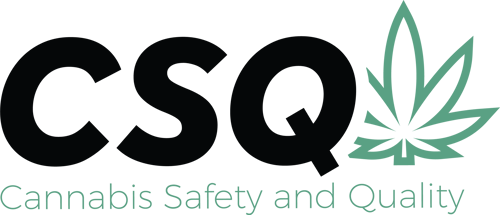 CSQ certification is the path to implementing a Food Safety Good Manufacturing Practices for your cannabis company. By complying with CSQ requirements, you can help to ensure the safety and quality of your products, increase consumer confidence, improve access to markets, reduce the risk of regulatory fines, and enhance your brand reputation.